Joined: Thu Feb 04, 2010 6:10 am +0000
Posts: 1945
Yoder777 wrote:

The Urantia Book describes colors of people that we do not see today. I am curious about what evidence is there outside the Urantia Book that these races of color we don't see today existed in the distant past. I've been curious about this for some time.


Hi Yoder, According to TUB, the 6 races of color emerged simultaneously in one Sangik family (64:5.2). The red, orange, yellow, green, blue, and indigo races, basically descended from 19 Sangik children ..


Quote:

64:5.3 These Sangik children, nineteen in number, were not only intelligent above their fellows, but their skins manifested a unique tendency to turn various colors upon exposure to sunlight. Among these nineteen children were five red, two orange, four yellow, two green, four blue, and two indigo. These colors became more pronounced as the children grew older, and when these youths later mated with their fellow tribesmen, all of their offspring tended toward the skin color of the Sangik parent.

64:6.1.On an average evolutionary planet the six evolutionary races of color appear one by one; the red man is the first to evolve, and for ages he roams the world before the succeeding colored races make their appearance. The simultaneous emergence of all six races on Urantia, and in one family, was most unusual.



The UB states that melanin was the "original Andonic skin pigment" (63:4.1). "The unique tendency to turn various colors upon exposure to sunlight" (64:5.3), appears to be a trait we inherited from the Andonics. And there are two types of melanin in all mammals, the brownish black eumelanin and the reddish yellow pheomelanin. Different (relative) concentrations of these two pigments account for yellow, orange, red, green, and black (indigo) skin. Blue skin color is not caused by pigments but results from light scattering by regularly arranged collagen fibers in the skin ..



......................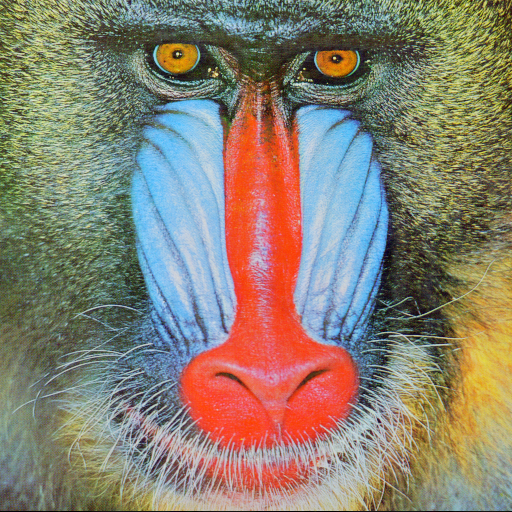 So, "the unique tendency to turn various colors upon exposure to sunlight" may refer to the unique human capability of producing more melanin upon exposure to sunlight. And if two different types of melanin would be thus active in human skin, we might turn from yellow to red to black. The clear blue color, resulting from collagen fibres in the skin isn't triggered by sunlight. In fact, such blue skin contains no melanin. The introduction of black eumelanin and/or yellow pheomelanin (upon exposure to sunlight) in blue collagenated skin turns it red or indigo, as can be seen in the above image of a Mandrill monkey, at the edges of the blue muzzle and red nose).

Modern humans (like Madrills) produce both eumelanin and pheomelanin, but (the black) eumelanin is always the major constituent of epidermal melanin in humans, and we don't have blue collagenated skin. Hence the current limited color variation. But this may well have been different 400,000 years ago, which is clearly demonstrated by one of our living close relatives..