<<Previous Blog Post | Current Blog Post | Next Blog Post>>
Fri, November 02, 2012
How Rare Is The Earth?
By Marcelo Gleiser
How Rare Is The Earth?
by Marcelo Gleiser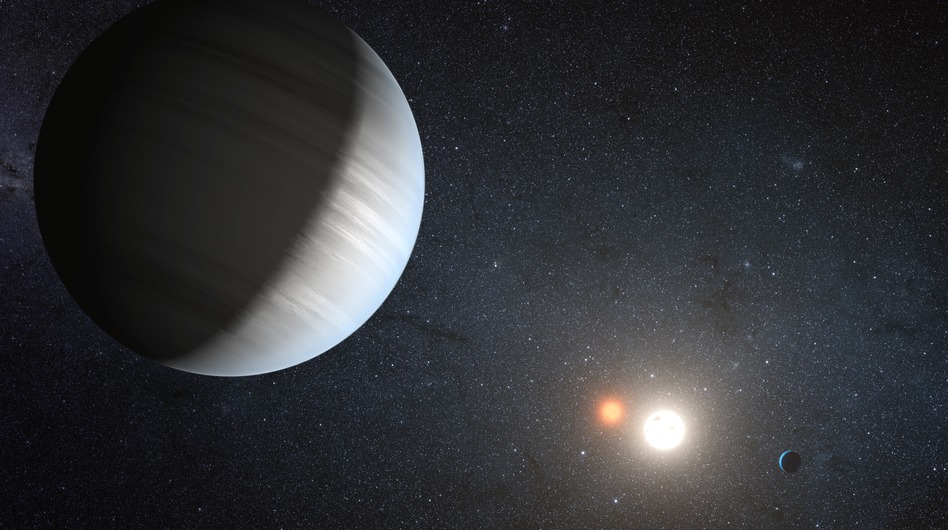 This artist's concept illustrates Kepler-47, the first transiting circumbinary system — multiple planets orbiting two suns — 4,900 light-years from Earth, in the constellation Cygnus.
T. Pyle/JPL-Caltech/NASA
"Now that we are fairly sure that there are many Earth-like planets in our galactic neighborhood, the time is ripe (or almost so) to wonder whether these new worlds do indeed have a high probability of hosting new forms of life.
Currently, the best data on the existence of other planets comes from NASA's remarkable Kepler satellite, which has been mapping a swath of the sky comprising some 150,000 stars. The mission identifies planets using something called planetary "transit": a planet passing in front of a star slightly dims its brightness."
See "Link to External Source Article" below to read further, AND to see a lovely video about the recent transit of Venus in front of our sun...
-----------------------------------
This passage from The Urantia Book numbers the INHABITED planets in our universe of Nebadon only.
32:2.9 The organization of planetary abodes is still progressing in Nebadon, for this universe is, indeed, a young cluster in the starry and planetary realms of Orvonton. At the last registry there were 3,840,101inhabited (ital by ed.) planets in Nebadon, and Satania, the local system of your world, is fairly typical of other systems.
Also of note is the explanation of the decimal planet, of which Urantia is one...these are the evolving planets that harbor life implanted by the Life Carriers.
36:2.15 ...the Life Carriers and all their associates collaborate with the Melchizedeks in the effort to modify and possibly improve the life designed for implantation on the decimal planets of Nebadon. The life now evolving on Urantia was planned and partially worked out on this very world, for Urantia is a decimal planet, a life-experiment world. On one world in each ten a greater variance in the standard life designs is permitted than on the other (nonexperimental) worlds.
Link to External Source Article
<<Previous Blog Post
|
Current Blog Post
|
Next Blog Post>>