<<Previous Blog Post | Current Blog Post | Next Blog Post>>
Fri, July 08, 2011
Why gardening is good for your health
By Anne Harding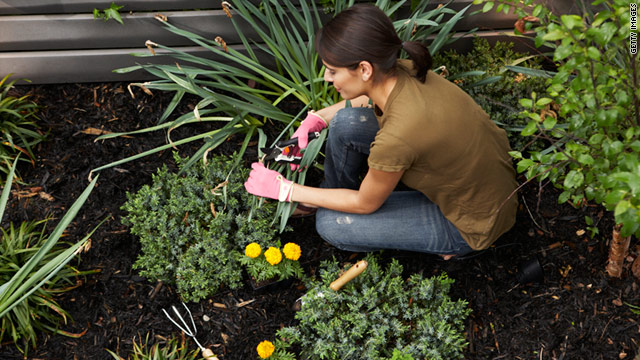 Gardening can ease stress, keep you limber, and even improve your mood.STORY HIGHLIGHTS
Gardening gets you out in the fresh air and sunshine -- and it also gets your blood moving
Gardeners eat more fruits and vegetables than their peers
Physical activity associated with gardening can help lower the risk of developing dementia
(Health.com) -- Gillian Aldrich started growing vegetables in her backyard three years ago, and she's now working on planting a bed of hydrangeas, butterfly bushes, rose campion, and -- her favorite -- pale-pink hardy geraniums along one side of her property.
As she digs in the garden, her 8-year-old daughter and 3-year-old son often play around her, sometimes taking a break to dig for worms or pick strawberries.
Instead of watching them, Aldrich is playing, too -- "my kind of play," she says.
"When you sit at a desk all day, there's something about literally putting your hands in the dirt, digging and actually creating something that's really beautiful," says Aldrich, 42, a magazine editor in Maplewood, New Jersey. "There's something about just being out there that feels kind of elemental."
Aldrich isn't the only one who feels this way. Many gardeners view their hobby as the perfect antidote to the modern world, a way of reclaiming some of the intangible things we've lost in our busy, dirt-free lives.
The sensory experience of gardening "allows people to connect to this primal state," says James Jiler, the founder and executive director of Urban GreenWorks, a Miami-based nonprofit that creates garden and park programs for low-income neighborhoods.
"A lot of people [understand] that experience. They may not be able to put it into words, but they understand what's happening."
Working in the garden has other, less spiritual rewards. In addition to being a source of fresh, healthy produce, gardening can ease stress, keep you limber, and even improve your mood.
Here are just a few of the ways gardening can benefit your physical and mental health, and how you can start harvesting those benefits for you and your family.
Stress relief
A recent study in the Netherlands suggests that gardening can fight stress even better than other relaxing leisure activities.
After completing a stressful task, two groups of people were instructed to either read indoors or garden for 30 minutes. Afterward, the group that gardened reported being in a better mood than the reading group, and they also had lower levels of the stress hormone cortisol.
"We live in a society where we're just maxing ourselves out all the time in terms of paying attention," says Andrea Faber Taylor, Ph.D., a horticulture instructor and researcher in the Landscape and Human Health Laboratory at the University of Illinois at Urbana-Champaign.
Humans have a finite capacity for the kind of directed attention required by cell phones and email and the like, Taylor says, and when that capacity gets used up we tend to become irritable, error-prone, distractible, and stressed out.
Fortunately this "attention fatigue" appears to be reversible. Following a theory first suggested by University of Michigan researchers in the 1980s, Taylor and other experts have argued that we can replenish ourselves by engaging in "involuntary attention," an effortless form of attention that we use to enjoy nature.
Trading your BlackBerry for blackberry bushes is an excellent way to fight stress and attention fatigue, Taylor says, as the rhythms of the natural environment and the repetitive, soothing nature of many gardening tasks are all sources of effortless attention.
"The breeze blows, things get dew on them, things flower; the sounds, the smells," says Taylor, herself a home gardener. "All of these draw on that form of attention."
Better mental health
The effortless attention of gardening may even help improve depression symptoms.
In a study conducted in Norway, people who had been diagnosed with depression, persistent low mood, or "bipolar II disorder" spent six hours a week growing flowers and vegetables.
After three months, half of the participants had experienced a measurable improvement in their depression symptoms. What's more, their mood continued to be better three months after the gardening program ended. The researchers suggest that the novelty of gardening may have been enough to jolt some of the participants out of their doldrums, but some experts have a much more radical explanation for how gardening might ease depression.
Christopher Lowry, Ph.D., an assistant professor of integrative physiology at the University of Colorado at Boulder, has been injecting mice with Mycobacterium vaccae, a harmless bacteria commonly found in soil, and has found that they increase the release and metabolism of serotonin in parts of the brain that control cognitive function and mood -- much like serotonin-boosting antidepressant drugs do.
Digging in the dirt isn't the same as taking Prozac, of course, but Lowry argues that because humans evolved along with M. vaccae and a host of other friendly bugs, the relative lack of these "old friends" in our current environment has thrown our immune systems out of whack.
This can lead to inflammation, which is implicated in a host of modern ills, from heart disease to diabetes to depression.
"By reintroducing these bacteria in the environment, that may help to alleviate some of these problems," Lowry says.
-----------------------------------
Please click HERE to read the rest of this timely and interesting article.
Tilling the soil is not a curse, nor should it be beneath anyone as a pastime...it is the most basic of human occupations:
49:4.5 Seasons and temperature variations occur on all sunlighted and sun-heated planets. Agriculture is universal on all atmospheric worlds; tilling the soil is the one pursuit that is common to the advancing races of all such planets.
81:1.4 Since slaves were so generally employed by the earlier agriculturists, the farmer was formerly looked down on by both the hunter and the herder. For ages it was considered menial to till the soil; wherefore the idea that soil toil is a curse, whereas it is the greatest of all blessings. Even in the days of Cain and Abel the sacrifices of the pastoral life were held in greater esteem than the offerings of agriculture.
66:7.19 Mankind was not consigned to agricultural toil as the penalty of supposed sin. "In the sweat of your face shall you eat the fruit of the fields" was not a sentence of punishment pronounced because of man's participation in the follies of the Lucifer rebellion under the leadership of the traitorous Caligastia. The cultivation of the soil is inherent in the establishment of an advancing civilization on the evolutionary worlds, and this injunction was the center of all teaching of the Planetary Prince and his staff throughout the three hundred thousand years which intervened between their arrival on Urantia and those tragic days when Caligastia threw in his lot with the rebel Lucifer. Work with the soil is not a curse; rather is it the highest blessing to all who are thus permitted to enjoy the most human of all human activities.
68:6.1 Man is a creature of the soil, a child of nature; no matter how earnestly he may try to escape from the land, in the last reckoning he is certain to fail. "Dust you are and to dust shall you return" is literally true of all mankind. The basic struggle of man was, and is, and ever shall be, for land. The first social associations of primitive human beings were for the purpose of winning these land struggles. The land-man ratio underlies all social civilization.
Link to External Source Article
<<Previous Blog Post
|
Current Blog Post
|
Next Blog Post>>