<<Previous Blog Post | Current Blog Post | Next Blog Post>>
Fri, August 26, 2011
We are all in serious spiritual trouble
By Albert Radcliffe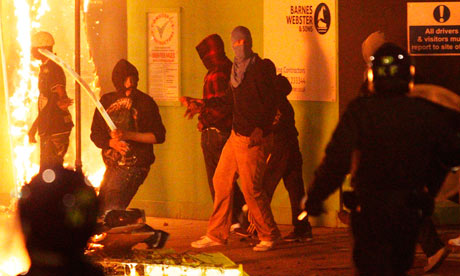 'When we have no experience of healthy spiritualities we are likely to opt instead for those that are morally dysfunctional.' Photograph: Lewis Whyld/PA
The question: Is there a spiritual response to the riots?
The riots in London, the Midlands, Liverpool and Manchester have been analysed from just about every angle: the sociological, psychological, moral and even the aesthetic, but Russell Brand's Guardian article was a reminder of their underlying spiritual significance.
We say something is "spiritual" when it nourishes our sense of self and the self's sense of its own worth. The spiritual is made up of all those inner realities of conscience and imagination that lie beyond the rational and emotional sides of our nature. For example, deep-seated, life-shaping attitudes are not the products of reason or feeling: they are created by events and relationships functioning permanently deep within our lives.
...
The spiritual life of individuals and societies is built traditionally upon stories and rituals, teaching and example, discipline and prayer; but as the Christian basis of our culture has been largely abandoned, its place has not been taken by secular equivalents. Healthy spirituality is always creative; unhealthy spiritualities are invariably destructive. Religion might be only one spiritual resource among the many that we need, but without it we are on starvation rations.
The spiritual deficit in a multifaith society should concern unbelievers as well as believers. Christian humanists like myself should be in dialogue with secular humanists, as well as those of other faiths, for human nature is at root a spiritual nature. It should be well nourished among poor and wealthy alike. As WH Auden wrote, though alas in a line he came to regret: "We must love one another or die."
-----------------------------------
Please click HERE to read the rest of the article
So, what IS spirituality? The Urantia Book gives us a lot of information - and a lot of hope in this area. Please see our Topical Study on Spirituality HERE. It is a good sampling of UB wisdom, and can be used as a springboard to explore the subject in depth.
Link to External Source Article
<<Previous Blog Post
|
Current Blog Post
|
Next Blog Post>>